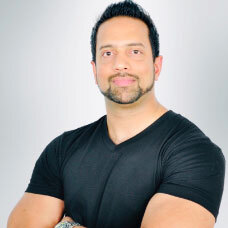 AMJAD KHAN
Founder & Director, REPS India
Chair, Global Membership Development, ICREPs
Amjad studied Fitness and Nutrition from one of the most reputed institutions in the USA and passed out as one of the Toppers of the institution by scoring an average of 94%. Apart from that, he also pursued some of the most reputed certifications in the International fitness Industry from the U.S.A and U.A.E.
He started his official career as a Fitness professional by helping members in the gym as a gym instructor and went on to becoming an entrepreneur of multiple fitness businesses. Amjad is definitely a success story which will inspire a lot of aspiring fitness professionals.
With More than a decade of experience in the Fitness Industry, Amjad is considered one of the most successful Personal trainers in the Fitness Industry. In an approximate 6 years span of working with Fitness First Middle East, Amjad was awarded " Personal Trainer Of The Year" 5 years in a row.
He was also selected as One of the Top 7 Personal Trainers in the U.A.E by getting nominated in ' Personal Trainer Of the Year' category by Fit Awards UAE . Fit Awards UAE is the most prestigious Awards which recognizes the achievements in the Fitness Industry of the U.A.E.
Amjad's words " I feel that the Indian Fitness Professionals and the International Fitness industry has immense potential. As the Founder of REPS India, my most important goal and my biggest challenge are to organize a smooth International portability of Indian fitness professionals through REPS India which can only be achieved by acquiring a quality fitness education which is aligned with International Standards. My dream is to get the Indian Fitness Industry the International Recognition which I feel it truly deserves. "
Amjad is also well connected in the international fitness industry, and it will be a benefit for the REPS India register.